Taiwan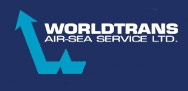 Worldtrans
Contact:

Mr. Aaron Chang


Phone:

852-2247 3333


Fax:

852-2764 2135



Address:
Room 701-703A, hing Wah Centre, 84 Tokwawan Road,
Hong Kong
Web Site
Air freight: Recognized as one of the most experienced & professional forwarder in Asia and Scandinavia, we are extremely proud of being accorded TOP TEN Agents by renowned carriers continuously since its establishment. These include Singapore Airlines, Lauda Air, Asiana Airlines, Saudi Arabian Airlines, Scandinavian Airlines...etc.

Sea freight:Worldtrans is expert in providing various kinds of seafreight solution to meet your needs. Whether it is Full Container Loads (FCL), Less Than Container Loads (LCL) or consolidation, WORLDTRANS is there to ship to any seaport in the world or to any specifically assigned custom-made routes.

Sea-Air freight:Worldtrans is well prepared to meet all your needs by introducing different modes of transportation to save cost while meeting your requirements. As such, we have successfully integrated superior air and ocean capabilities with innovative systems to help you accomplish best results, within time given with flexibility. Sea - Air is well accepted by many of our customers and is proven effective.

Garments on Hangers: Worldtrans is specialized in GOH with over 10 years experience. Our dedicated specialists pick, pack, sort and hang garments with extreme care to ensure maximum protection and at the same time to eliminate refurbishing at destination, we strictly adhere to quality control procedures. WORLDTRANS is expert in providing and / or handling tailor-made equipment to suit the need of shipment assigned. Aside of maximizing space utilization, much attention is paid to ensure the garment in good genuine shapes during and after shipping by air or sea.

Warehouse: All our warehouses are installed with highly sensitive electronic security systems; with 24-hour security guards enforcement; with fire alarm systems and fireplugs etc. In addition, while under our warehouse custody, your cargos are insured to protect against damage, pilterage and theft. It is our job to make sure your goods leave our warehouse in the same condition they come in.
| | |
| --- | --- |
| Company rating: | |
Customer's Reviews:
There are no reviews. Be the first to review this company.