United States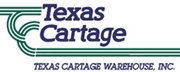 Texas Cartage Warehouse, Inc.
Phone:

(214) 320-3200


Fax:

(214) 320-9103



Web Site
Warehousing
Our facilities are located in two of Dallas' busiest commercial zones. These facilities enable us to provide complete warehouse services, including:
- 420,000 square feet of sprinklered space with security protection;
- food grade storage - complete sanitation program;
- freight consolidation for all shipment sizes;
- on-line computer capability including EDI and WINS;
- immediate shipment status and inventory control;
- prompt response to orders;
- standard and specialized material handling equipment;
- sheltered loading docks;
- 53 truck doors;
- open dock for specialized handling - dock high, ground level, and van/pick-up truck loading;
- bonded storage;
- low fire insurance rating - quality municipal services;
- warehouseman's legal liability, general liability, and fidelity coverage.

Truck Transportation
We provide a complete range of trucking and distribution services for our clients, including:
- local delivery in the Dallas/Ft. Worth commercial zone;
- pool, cross dock, and consolidation distribution;
- handling and refowarding throughout the southwest;
- TOFC pick up, delivery and handling for all areas and all plans;
- flexibility in vehicles, equipment, and services;
- efficient dispatch and delivery performance;
- EDI billing and shipment status communications;
- regional truckload, stop off, and LTL delivery operations;
- contract and common carrier authority;
- cost effective insurance for auto liability and cargo.
| | |
| --- | --- |
| Company rating: | |
Customer's Reviews:
There are no reviews. Be the first to review this company.