Low cost

international shipping and

moving services!
| | |
| --- | --- |
| | Find Shipping Companies: |
Careful services from international shipping companies from all over the world offered. Just specify your interested destination and find local shipping company for the most convenient shipping and moving worldwide.




United States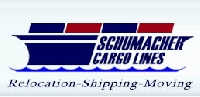 Schumacher Cargo Logistics
Contact:

Damien Shields


Phone:

(562) 408-6677



Web Site
Schumacher utilizes an insured, secured and bonded cargo loading facility and provides warehousing, packing and crating, trucking and loading.
We ship:
- Cars Air/Ocean
- Motorcycles Containerized
Shipments
- Boats - Marine Insurance
- Parts - Weekly Sailings
- Household Goods - Door-to-Door Trucking
- Commercial Goods - Warehousing
- In-House Crating - Packing
| | |
| --- | --- |
| Company rating: | |

Customer's Reviews:
Ray Travis
Reading the above review just confirms the frustrations that I am having just trying to get a response to my e-mails....My car was picked up on Nov 7 and arrived in Miami on Nov 8...and as far as I know it is still sitting in Miami...I have paid in full, I have provided all the paperwork requested and stillit sits...the customer service received from Schumacher is the worst I have ever encountered. Furthermore, I paid for an insurance policy and never received a binder or did they even acknowledge what company it was with or if they even purchased it. I would caution anybody using Schumacher to give it great thought......

Anna Maria K Moore
Ever since deciding to use Schumacher to ship our household goods, including a vintage 1969 Carmann Ghia and a 2003 Harley Davidson Road King, we have had nothing but head and heartaches. They have not provided any documentation, refuse to give us a reference number and change their story every day. They have delayed our shipment for over a month, all the while claiming that it has been sent. The latest whopper is that it was sent to Europe and turned around to go BACK through US customs (as if US customs would have let it go in the first place). We have lost a substantial amount of money and time working with this company and highly dissuade anyone else from utilizing their services.

Alex from Austria
This company let me pay $99 for an insurance, I got no title about this insurance nor a confirmation, just a bill.
Unfortunately a damage occured to my car on the ship and they are not willing to pay any cent. Keep hands away from this company!!!!!
Diese Firma ließ mich $99 für eine Versicherung zahlen, von der ich weder eine Urkunde noch eine Bestätigung sah. Unglücklicherweise hatte mein Auto einen Transportschaden am Schiff erlitten und nun will die Firma nicht einen einzigen Cent zahlen. Hände weg von dieser Firma!!!!!!

Cameron Ross
Dear Schumacher Cargo:

I can't thank you enough, for your influence on the matter previously discussed had a pronounced and positive effect.

I have recently spoken to my friend in Scotland and he is delighted by the turn of events, and I know it was due to your intervention. I am very pleased and extrememly grateful.
Not only will I enthusiastically continue to do business with you...but I can assure you that any of my friends that have the occasion to ship anything overseas will get a hearty recommendation from me for Schumacher Cargo it has been a real pleasure doing business with you personnally.

Thank you once again for your help.

Sincerely,

Eric Shipley
I have just ended the third day of an intensive effort to get Schumacher to collect a car to be taken to Miami for onward shipment to Bremerhaven. The shipping charges have been paid by the new owner in Denmark I just want to see the car collected to free up some garage space.
When I call the California office they tell me Miami are dealing with it, when I call Miami, CA are dealing with it. Messages from CA arrive just after 5PM EST so its too late to call Miami. When I call Miami first thing in the morning CA does not open till 11AM. Today I was given a contact name to call (Annie) in CA only to be told by the operator that I needed to talk to Ivan. I called 3 times during the course of the day, on one occasion holding for 15 minutes, Finally a call on my cell phone at, guess what, 5PM EST. So tomorrow morning when I call Miami no doubt I will be referred to the CA office.

Now for the Schumacher Incompetance Awards.

First Prize goes to Jenny Kouyoumjian from the CA office who told me she had called me 3 times and my phone was not working despite me having received a succession of calls throughout the day. This after I was put through to her voice mail 3 times and eventually cornered her. I was told that she would email me "right away" with the required paperwork. After waiting 3 hours and shortly before 5 PM EST I emailed her to vent my anger, the response came at 5.29 PM telling me the documents MUST be overnighted to the Miami office.
When I called the Miami office this morning I was told that the documents could be handed to the driver.

Runner up:
The man in Miami who told me that my contact in CA would be Annie, so wasting another half day for me.

So tomorrow being Friday no doubt everything will be on hold until next week.

Private
I have done two shipments with Schumacher last summer from Los Angeles to Zurich/Switzerland. One was pure household stuff in boxes, the other a USD 40.000 fully restored 1967 Ford Mustang muscle car. In both cases no problems at all. Fast, uncomplicated service in LA. Offices a bit messy, but that must be standard with all shipping companies. I just drove up the ramp, told them to give me a quote, got informed about when the ship is leaving Long Beach and when more or less I could expect the car in Bremerhaven. I paid, walked out and that was it. No insurance at all, waist of time and waist of money. If the container goes down, it's down. Life goes on, without car and without household. I'd rather spend the money on food, wine, books and cuban cigars.

This summer I will ship another car, all original USD 150.000 1956 Porsche Speedster to Switzerland. It will be out of Miami. Again no insurance, even if it is a award winning car (best Porsche in America, Pebble Beach winner).

If you ship to Europe, their agent in Bremerhaven is great and very flexible. It's called Autoshipment GmbH. Ask to talk to Mrs. Kukla; I'm 100% satisfied. Very pro. Organised even the truck- transport from Bremerhaven to Zurich Customs. Took me two calls and a wire transfer.

I would recommend Schumacher without hesitation.

Director of HR
I have moved several company employees with Schumacher Cargo and would not utilize any other shipping company to handle our goods.These folks are experts at what they do and in the shipping industry it is not a perfect world.Often there are multiple entities involved in just one shipment. So we understand the complexities associated in this industry.My hat goes off to Schumacher Cargo for a job continually well done.

Rob
I have used Schumacher Cargo to ship 4 classic 1940's and 1950's american cars in 20ft containers, between 2005 and 2006, from long beach and New-Jersey to Japan/Asia. All 4 cars came without a scratch and I am extremely pleased with Schumcher services, considering the low prices.
e-mail and communication was not always perfect but eventually the result was excellent. We are talking about very large Cadillacs that take the full space and leave just 15 cm on each side of the container walls, but again the loading job was excellent.

Tom
I have shipped over 10 cars with this company and must say that I never had any problems. Miami office is very professional and helpful. They have a great rates and ship freight in timely matter as promised. I highly recommend this company specially Miami office.

Pei-Ya
I have never ever shipped a car overseas before. I found this website about Schumacher cargo, it has both good and bad reviews, I wasn't sure if I should use Schumacher. Since they gave me the best price, I went with them anyways. The result end up satisfactory. I shipped a brand new 2006 BMW Z4 from Long Beach CA to Taiwan, Taichung port. Although it takes them a little while to get the car from the carport to the vessel, everything went well. The car arrives on time in Taiwan without a scratch. I would use Schumacher Cargo again. Although their customer service is not perfect, they get the job done.

Ted Vernon
Absoutely Avoid! We are a Classic Car Dealership in Miami. We sold a lovely tourist from Norway a 1961 Chevrolet Impala valued over $20,000.00. Schumacher Cargo sent a tow truck to pick up the vehicle at our dealership to have it delivered to their warehouse. Within two hours the vehicle was stolen. Quite sad right?-but any big company has liability right? Sure but not if they deny it being their fault and will not give us their insurance information. They deny it being their fault on the excuse that the driver didnt deliver it properly. Police report made by schumacher reads "they were notified it was offloaded and when they came back out of the office it was gone." Funny considering the other car the two car truck delivered was sent out to Italy and was delivered within two feet of our other vehicle that was stolen- I contacted Andy in the Cali. office (apparently the owner) who was cocky and said he would not help. Avoid! Email if you have tips on going after these thieves-

Angela
July 4, 2008

You're really taking your chances with this company!

My husband and I drove a new Jeep Compass from Columbus, OH to New Jersey for delivery to Piraeus, Greece. We planned on using it as both a means of transporation for our european vacation and a gift for my husband's family in Albania. Mind you, we weren't leaving the states until mid-June; plenty of time for it arrive in Europe.
From the get-go we were given the run-around from many different people in Schumacher. I won't get into specifics because it seems many of the people above have faced the same situation. Right now, it's July 4. Our car's still in the U.S, we can only hope it's still in one piece and we've finally been pushed to the point where we're considering legal action when we get back home.

Please, be wary when considering this company. If I would have taken the time to read these reviews before shipping with Schumacher, I would never have used them.

Richard Crouch
DO NOT USE THIS COMPANY!!!! I dropped my car of on Feb 8, 2008, I paid in full and submitted all required paperwork. I was assured it would ship before the end of Feb 2008. It only shipped on April 28. Now that it has arrived in South Africa it is being held by customs because it was put in a container with another vehicle that has no paperwork and customs will only clear the entire container, so who knows when that will happen. It has been more than 5 months and I still do not have my car

Alexander
Stay AWAY!!!Nothing but trouble!!!I will never use their services again!

Ken
My car was stolen within 2 DAYS of delivery to their Irvington NJ outside unguarded "storage facility", in August 2009. The car was apparently then shipped overseas to a pre-arranged foreign buyer. I am CONVINCED that this was an inside job. They refused to make me an offer to recompensate me for the value of the car. I'm in court now, going after them under the NJ Consumer Fraud ACT. Their sham insurance company is just a front for this company to collect insurance premiums that will never be paid to their victims. All of the premiums go into their pockets. Nothing would make me happier than to read about this gang of car thieves being sent to prison for running a stolen car ring. A very profitable side business, I am sure.

Mike Cocklin
if you want to lose your car/Money/personal effects/Temper/then these are the people to deal with.Congenital liars from the moment they quote: these nice folks will screw you up hill and down dale.Never send them your title deeds!
{its theirs from then on in}Tip if you are shipping a vehicle to europe use the shipping lines e.g. willenius. make sure that all charges are paid at your end. your shipping line will recomend a reliable agent in the U.S.A . I am given to understand that these people are also under scrutiny from the homeland security dept.so if you ever are pulled up for unwanted products among your personal effects or hidden in your vehicle refer them back to Jenni or Bart at the Long Beach office. Meanwhile whist i will betaking legal action:: sue them and save the last bit to make sure that the beneficial owners are stuck in Jaill