Low cost

international shipping and

moving services!
| | |
| --- | --- |
| | Find Shipping Companies: |
Careful services from international shipping companies from all over the world offered. Just specify your interested destination and find local shipping company for the most convenient shipping and moving worldwide.




United States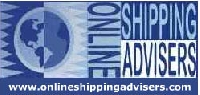 Online Shipping Advisers
Contact:

Carlos


Phone:

(866) 898-4000


Fax:

(323) 417-51 81



Web Site
Online Shipping Advisers will help you if you have smaller shipments to consolidate with others (LCL) or if you need a full container Load (FCL) . Online Shipping Advisers can provide fast and reliable service to many ports worldwide. We have capabilities to service your requirements with a network of convenient receiving depots, offices and representatives throughout the world. The steamship carriers we select offer reliable sailing dates with just transit times at competitive rates.

Online Shipping Advisers will get you a rate from your residence or business to the port of destination only. We do not get involved in any type of customs clearance, taxes, duties or agent handling fees. We are advising this from the beginning so there aren't any misunderstandings once you are clearing your items at your destination country where it was sent.
| | |
| --- | --- |
| Company rating: | |

Customer's Reviews:
Donald L. Tuttle
My attempt to arrange shipping to ZA has met with nothing but failure with this company. Their 800 # is answered with recorded message "trouble with this line," their local # gets you "this number is not in service; fax # does not respond, emails to this company and contact person Carlos Gonzales are returned as undeliverable. I would rather ship my goods on a slow boat to China rather than use this company now (that is, if they still exist out there somewhere!)

Conny Wolfram
Online Shipping Advisers shipped my personal effects (July 2004) from LA to Hamburg/Germany. Although one or two of the boxes w/books were lightly damaged, the overall job they did was excellent and extremely competitive. In fact, I was so much satified that I have decided to use them again this year for all my shipping (back to the States). Thank you again, Carlos and Chelsea!

R Davidson
Do NOT use these people. They went bankrupt on me in 12/04 --yet they still took my payment just before they went under. I had to pay for everything again, my boxes got lost, and when I found them they had a lien on them.