United States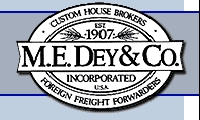 M. E. Dey & Co.
Phone:

414-747-7000


Fax:

414-747-7010



Web Site
Our services for the Importer...

* Ten licensed Customhouse brokers.
* Basic Documentation.
* Role of Custom house Broker.
* Entry of Goods
* Importing FAQs.
* All entries are handled through the Customs ABI interface.
* Shipment Tracing programs, including, Import Connect, Flash Fax, Dial in Tracking.
* Bond, Frequently asked Questions.
* Customs Bonds.
* Marine Insurance.
* Routings and Freight Quotes.
* Control of your valuable freight.
* Liquidation results.
* Nationwide Customs clearance.
* Consulting on Import processes, Reasonable care and classification.

Our services for the Exporter...


* What is a Freight Forwarder.

* International Sales, Incoterms.
* Basic Insuring Conditions.
* Electronic interface with Customs-Marine Insurance.
* Letter of Credit checklist.
* Letter of Credit Glossary.
* Superior routings.
* Export Tracing.
* Air Freight Forwarding.
* Air and Ocean quotes.
* Consulting on Export processes and cost savings.

Customer's Reviews:
There are no reviews. Be the first to review this company.