Belgium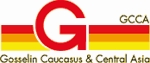 Gosselin Caucasus & Central Asia
Contact:

Mr. Michel Obourdin


Phone:

+ 32 3 360 55 06


Fax:

+ 32 3 360 55 79



Address:
Belcrownlaan 23
Deurne
B-2100
Web Site
Gosselin Caucasus & Central Asia is an international moving – shipping – packing – storage and airfreight moving company. We cover Armenia - Azerbaijan and Georgia through our own offices.
Freight Forwarding
Nomad Express is acting as General Agents for Lufthansa, British Mediterranean, Swiss Air and Azal airlines, booking general cargo and household goods shipments out of Baku (Azerbaijan) and Tbilisi (Georgia) to various destinations all over the world. We have weekly departures and arrivals of groupage containers from and to our mother company Gosselin World Wide Moving in Antwerp and the port of Poti in (Georgia) as well as containerised rail transport to Kazakhstan and Central Asia. We provide pre-haulage, loading / unloading, terminal handling, documentation assistance and other removal services.

Customs Clearance
Gosselin Caucasus & Central Asia offers free consultancy to its customers and agents on local customs regulations and requirements.

Warehousing
Gosselin Caucasus & Central Asia has its own warehouse facilities and handling equipment (cranes, forklifts, pre-haulage pick-up trucks, weighing scales, etc).

International Moving
The company provides complete origin services for packing and shipping, freight brokerage, full destination services. Having broad range of reliable partners and agents all over the world we offer complete door-to-door services.

Removals:
- high quality packing materials imported from Belgium;
- professional packing team;
- short- or long term storage;
- full destination service (customs clearance, warehousing, house delivery, unpack);
- full origin service (survey, packing + export crating, customs clearance and shipping to destination).

Customer's Reviews:
There are no reviews. Be the first to review this company.