Low cost

international shipping and

moving services!
| | |
| --- | --- |
| | Find Shipping Companies: |
Careful services from international shipping companies from all over the world offered. Just specify your interested destination and find local shipping company for the most convenient shipping and moving worldwide.




United Kingdom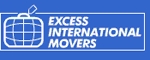 Excess International Movers
Phone:

0800 783 1085


Fax:

020 8324 2095



Address:
4 Hannah Close, Great Central Way
London
NW10 0UX
Web Site
The company provides the following services:
- baggage shipping;
- removals worldwide;
- car shipping;
- airport terminal services;
- rail station services;
- storage services;
- lost property;
- customs & import;
- documentation & protection.
| | |
| --- | --- |
| Company rating: | |

Customer's Reviews:
James Bowles
Really disappointed with the insurance provided by Excess International. They take no responsibility for the damage that they cause. Having spent a considerable amount of money on the product that they pedal, I was told "this is not an insurance policy" when i came to make a claim.

Eleanor Armstrong
Totally echo Mr. Bowles comments above. EIM have twisted and turned at every available opportunity to get out of paying a penny. We paid >£700 to insure our home contents and when we claimed apparently next to nothing is actually covered, then they want to reduce the value covered for an item by pro rating all items noted on that line of the insurance form. Then they want Administration fees for processing your claim, then they want £20 to actually make you a payment. My advice use another company! Its a total disgrace

Anna Vasudevan
The worst moving company out there. I have moved internationally over three times, and Excess International did the worst job by far. Our shipment arrived nearly TWO MONTHS after the expected delivery date. Several pieces of priceless art were completely destroyed, and they didn't even bother to apologize. Insurance was a huge hassle to deal with. Do not touch these guys with a 10-foot pole.

Kate
They lost my snowboard, and could offer no explanation as to where/ at what stage this part of the consignment was lost. Don't use!!!!

Julie McDonald
My mum moved with them to Melbourne Australia. Everything was handled professionally - no complaints. She had some items damaged as one of the cartons got squashed, claim ran smoothly - just had to get valuation for replace. But apart form that I cannot complaint.

David Nicholls
We moved with them from UK to Australia. It was a part-load service (to Sydney) and everything went fine. No problems at all really, and the girl who looked after our move was very friendly, attentive and helpful. So were the delivery agents in Sydney.

Irene
Worst international move ever. I took another move and over one year thinking before leaving a review so that I could not be upset anymore. Having moved internationally many times with different companies, my best advice is AVOID Excess Intal Movers. From their not so good boxes, to their administration, customer service, etc everything has been handled very badly. Some furnitures had not been emptied. So many things have been broken, days of work lost because delay in arrival time not advised and we had to finish the work by ourselves because their team was expected somewhere else ! Insurrance did not cover all losses and some could not be repaired. Once paid, they did not consider any of our claims despite no arguments for their all along bad handling.

Anton
The men who came to do the household move and pack were absolutely #1 - first class with everything, dedicated hard workers, and very courteous.

Our goods were delivered in NYC with out any damage whatsoever. This is the first time that this has ever happened to me and I am a vet of 20+ international moves!!

Thank you so much.