Low cost

international shipping and

moving services!
| | |
| --- | --- |
| | Find Shipping Companies: |
Careful services from international shipping companies from all over the world offered. Just specify your interested destination and find local shipping company for the most convenient shipping and moving worldwide.




United States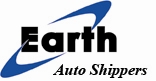 Earth Auto Shippers
Contact:

Mark Levin


Phone:

214-483-9020


Fax:

214-483-9021



Web Site
Services offered:
- Auto Transport
- Enclosed Auto Transport
• Motorcycles
• Antique Cars
• Exotic Cars
• Custom Cars
- Dealerships
- Luxury & Exotic Auto Transport
- Antique Vehicle Transport
- Motorcycle Transport
- Corporate Relocations
| | |
| --- | --- |
| Company rating: | |

Customer's Reviews:
C Swaringam
This company is a rip off. They quote you dates they know they can't make and when their OWN dispatcher named ROBERT admits that they can't fulfill the order and suggest that you cancel and get a refund, MARK Levin over rides that and keeps part of your refund as "FEE for dispatching a truck, mind you, the truck never showed up and we were already past a 7 day promised pick up date. i would never refer this company to anyone. we have found several websites full of complaints regarding their unethical business practices.. I am going to take legal action against them for me refund. CONSUMERS BE WARE

BMW
I had my BMW M3 moved from NC to Texas. It was brokered through Atlas Van Lines / Nelson Westerberg, who sub-contracted it out to Earth Auto Shippers, who sub-contracted it out to COWBOYS TRANSPORT & DELIVERY. DAMAGE: Rear bumper was ripped apart somehow. The BMW body shop guessed that it was caught on something during loading, and it got pulled apart when the driver continued with the loading. DISAPPOINTMENT: The driver tried to get away with it by trying to get us to sign the receipt prior to inspecting it. He knew that there was damage, since he readily admitted fault. The driver then advised us that it would only take a couple of strong guys to just push it back in, since that was what happened with another car he transported recently. The person at Cowboys (who had not seen the car nor the pictures also told me on the phone that it would be easy to just push it back in). COST: The repair cost was almost $300, not including the time spent getting the estimate and repair. Damage is understandable from time to time. Trying to get away with it is reprehensible, unless you're a 2-year-old kid who got caught trying to steal cookies out of the cookie jar. I WILL NOT USE COWBOYS TRANSPORT, EARTH AUTO SHIPPERS, ATLAS VAN LINES / NELSON WESTERBERG again, even if it is to ship my 2-year-old's tricycle.