Romania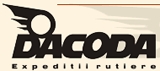 Dacoda
Phone:

+40.21.326.86.58



Address:
Strada Stefan Mihaileanu nr. 40
Bucharest
024024
Web Site
Freight forwarding services
Dacoda is also doing:
- grouping of merchandise services (if a client has only one pallet of merchandise, this will be transported together with other merchandise for the same destination);
- transportation of dangerous materials;
- oversized merchandise;
- merchandise with controlled temperature;
- distribution within the country.
Dacoda is transporting textiles on trucks with 35 bars (7.5 t total mass) or 90-100 bars (standard trucks) to Western Europe (Germany, Belgium, England, Holland and France).
Starting 2002, our company has initiated a distribution service from Bucharest to the rest of the country. Within this service, the client has the opportunity to ship small packages of merchandise (even less than a pallet), and the transport is quoted on the quantity of merchandise shipped.
On demand, the client can receive, in real time, via the Internet, information about the stage of the shipping.

Adjacent services
Dacoda does not limit itself to the transport services. We have created other services, adjacent to those of transport, such as warehousing services and insurance services - Cargo Policies.
The insurance rate is a percent from the total insured amount, at the value of the freight as stated by the owner, and has to be paid fully or in rates.
Warehousing services in Bucharest, Timisoara and Cluj including the administration of the stock and operating it at the client's request.
For clients who need technological tools, Dacoda rents heavy load trucks, motor cranes, tractors and other special vehicles.
We offer for free telephone advice and information about transport routes, information about the condition of roads.
We also offer information that can help in choosing the size of transport capacities, according to the characteristics of the clients merchandise. To those who want it, we offer information about addresses and hot line numbers in transport.
In addition to that, we offer a wide range of spare parts for engines, of European origin, with delivery within 24 hours.

Customer's Reviews:
There are no reviews. Be the first to review this company.