Argentina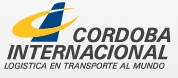 CORDOBA INTERNACIONAL
Contact:

Viterman Cáceres


Phone:

(54-351) 422-3492


Fax:

(54-351) 424-0586



Address:
Bv. Las Heras 68
Cordoba
X5000FMN
Web Site
We offer our clients such services as:
- integrated logistics for domestic and international;
Our wide range of services covers every aspect of logistics transportation, air, ocean, land and multi-modal shipments. We provide transportation and cargo services for any size and weight freight, to and from anywhere worldwide. Our staff provides specialized consulting and logistics services, covering economic, technical, legal, customs, insurance and packingaspects, customized to each specific kind of freight.
- removals;
a) local, domestic and international door-to-door removals;
b) office removals;
c) national and international transportation of special freights;
d) dangerous goods;
e) works of art;
f) pharmaceutical products;
g) live animals;
h) perishables.

- special packing;
a) packaging and packing services;
b) highly qualified personnel for any kind of packing;
c) we use quality materials, under international standards and requirements.
| | |
| --- | --- |
| Company rating: | |
Customer's Reviews:
There are no reviews. Be the first to review this company.