United States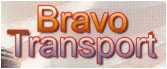 Bravo Transport
Phone:

800-687-3501


Fax:

714-998-5509



Web Site
Your vehicle will be transported on either a flatbed truck, 3-4 trailer car carrier, or an even bigger 8-10 car carrier, mainly used for long distance car moves, such as from coast to coast.
In either case, your vehicle is fully insured from origin to destination, and at no point will be driven except on and off the transporter.

The vehicle will be picked up at or as close to your location as possible. The transporter trucks are 80 feet long, weigh close to 80,000 lbs and are almost 14 feet high.
They are therefore very hard to maneuver and are restricted to main roads that do not have any overhanging tree branches, low clearance bridges, or wires.

We would like to have at least a 2 to 3 day window to schedule the pickup of your vehicle.
Pick-up dates and delivery times are not guaranteed. Immediate pick-ups are available at an additional cost.
We will also add additional charges to cover an inoperable (does not run) vehicle.
| | |
| --- | --- |
| Company rating: | |
Customer's Reviews:
sherry
Recently I contacted by Bravo Transport for shipping my car.. they said they would pick the up in 1 to 7 days but even after a week they were saying they haven't found the carrier. I was asking the representative about the procedure to cancel the order he canceled it and charged my card 100$. and after that they they can't do anything because the cancellation is already processed. this company is a big Scam.

Mel Kim
I used Bravo to ship my daughter's jetta home from college. They picked up and delivered on time. The driver was extra nice and went out of his way to work around her schedule. I had peace of mind knowing that she wouldn't be driving 1200 miles alone. I would recommend car shipping and Bravo.