Pakistan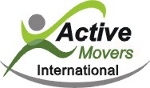 Active Movers International
Contact:

Mr. Shahzad Yousaf


Phone:

+92-51-2290086


Fax:

+92-51-5592436



Web Site
We provide:
- Packing:
Packing, crating, handling, palletizing of household goods, oil-well equipment, exhibition goods and oversized items.
- Freight Forwarding:
Shipment of household goods, oil-well equipment, general cargo, automobiles to and for any International destination to the other.
- Air, Land & Sea Transportation:
Trucks/Trailers of every kind, containers, ship & aircraft chartering.
- Customs Clearance:
Documentation, customs clearance, import & export permissions.
- Record Management:
Off-site record storage facilities for our most valued corporate clients.
- Rig Moves:
Customs clearance, handling & transportation.
- Rig Support Services:
Equipment & material supplies and oil field services, technical & operational management.
- Storage:
Active Movers provides storage for in-transit facilities along with permanent storage of household goods and oil-well equipment in our container yards.
- Pet Moves:
Handling import & export of dogs, cats, reptiles and livestock.
- Commercial Relocations:
Efficient relocation of your business from one location to another, national and International both.

Customer's Reviews:
There are no reviews. Be the first to review this company.