Low cost

international shipping and

moving services!
| | |
| --- | --- |
| | Find Shipping Companies: |
Careful services from international shipping companies from all over the world offered. Just specify your interested destination and find local shipping company for the most convenient shipping and moving worldwide.




Germany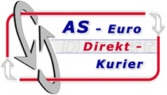 A S-Euro-Direct-Courier
Phone:

+49 22 02 / 3 82 00


Fax:

+49 22 02 / 3 67 41



Web Site
Refrigerated logistics
Within this service area, we are specialized in the transportation of foodstuffs. Using only dual chamber lorries (for fresh and frozen goods) we thereby comply, amongst others, with HACCP regulations. As-Kühlkurier is a competent partner in all questions relating to refrigerated logistics. We organize everything, from customs clearance through to storage up to the time of delivery.

Euro-direct-courier
Our core business in this sector centers around the provision of a pan-European direct delivery service. We transport goods of all kinds, from documents through to goods weighing up to 3.5 tones. Our direct delivery service enables your products to be delivered quickly, punctually and reliably to any location within Europe.

Business services / outsourcing
Customer's Reviews:
There are no reviews. Be the first to review this company.