Low cost

international shipping and

moving services!
| | |
| --- | --- |
| | Find Shipping Companies: |
Careful services from international shipping companies from all over the world offered. Just specify your interested destination and find local shipping company for the most convenient shipping and moving worldwide.




United States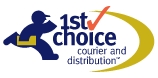 1-st Choice
Phone:

(314)895-6123


Fax:

(314)895-6138



Web Site
On demand courier services
This service is for your small packages that require same delivery within your metropolitan area:
- direct service: one hour delivery in the primary service area;
- rush service: 90 minute delivery in the primary service area;
- economy service: 4 hour delivery;
- same day service;
- van-track service;
- after-hour service.

Scheduled service
- on a daily or recurring schedule, 1stChoice picks up and delivers your materials to their specific destinations according to your specific timetable;
- one route = one driver;
- trained back-up drivers available to fill-in as needed.

Distribution services:
- line-haul capability - light truck to tractor trailer;
- nightly line-houl service between St. Louis and Kansas City or between St. Louis and Indianapolis;
- cross-dock facilities available;
- next-day or time-specific point delivery available;
- exclusive or conjunctive route structures available.

Logistic services:
- information technology solutions, including delivery database management, bar-code scanning and trucking solutions, internet ordering and trucking;
- state-of-the-art communication solutions including scanning and mobile data solutions.

Customer's Reviews:
There are no reviews. Be the first to review this company.